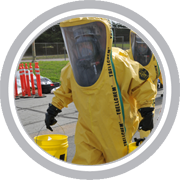 HAZWOPER is an acronym which stands for Hazardous Waste Operations and Emergency Response. HAZWOPER training is covered under OSHA standard 29 CFR Part 1910.120.
According to OSHA, the HAZWOPER standard applies to five groups of employers and their employees and specifically includes any employees who are exposed to hazardous substances and who are engaged in several operations including clean-up, treatment, storage and disposal of hazardous waste. In addition, workers involved in an emergency response operation dealing with hazardous waste and workers who have to perform duties at a waste site where hazardous contamination are equally expected to be fully trained and protected.
Hazardous waste site workers involved in the clean up of hazardous materials, emergency response personnel, and occasional site workers involved on the site and workers not involved in the cleaning up of hazardous materials need HAZWOPER training.
OSHA requires initial & refresher classroom instruction for HAZWOPER workers before starting work assignments. HAZWOPER 8, 24 & 40 Hour training is available onsite on demand in English or Spanish.
HAZWOPER 8-Hour Annual Refresher (Plus GHS Hazardous Communication) –
$79.00 Sale $59.00
HAZWOPER 24 Hour Course (Plus GHS Hazardous Communication) –
$209.00 Sale $199.00
HAZWOPER 40 Hour Course (Plus GHS Hazardous Communication) –
$305.00 Sale $295.00
First Responder Awareness (FRA) Level 1 –
$90.00 Sale $75.00