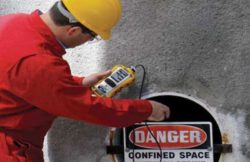 OSHA defines a confined space in 29 CFR 1926.21 as "any space having a limited means of egress, which is subject to the accumulation of toxic or flammable contaminants or has an oxygen deficient atmosphere."
An OSHA investigation finds safety failures led to the death of 3 workers who entered a  manhole containing lethal gases. Utility contractor cited for 10 serious violations.
OSHA has cited a South Florida utility company and related contracting company (Douglas N. Higgins Inc. and its related contracting company, McKenna Contracting LLC) – after the agency's investigation into the deaths of three workers who succumbed to toxic gases in a manhole on Jan. 16, 2017.

Confined Space Entry Training
Know Your Rights – Under federal law, you are entitled to a safe workplace. Training also plays a key role in the prevention of accidents.
Course meets Federal and State training requirements and provides compliance with OSHA 1910.146 for general industry and 1926 Subpart AA for construction employees.
Confined Spaces Entry Training 8hrs - Construction: $189 / Gen. Industry: $159
10% OFF SALE: Enter Promo Code "TRAIN10OFF" at Checkout
Confined Space Incident Facts
A 34-year-old pipe layer entered the manhole – a confined space – and quickly became unresponsive.
A 49-year-old laborer entered the hole and attempted to rescue the first employee.
After the second employee also became unresponsive, a 24-year-old equipment operator followed to help his fallen coworkers. All three men died.
Post-incident atmospheric testing in the manhole revealed lethal levels of hydrogen sulfide and carbon monoxide.
Two other employees and a volunteer firefighter were also exposed to the toxic gases in the manhole during rescue attempts but survived.
OSHA's Investigation Findings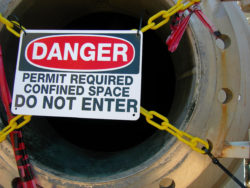 OSHA investigators cited Douglas N. Higgins, Inc. and its related contracting company, McKenna Contracting, LLC with 10 serious violations totaling $119,507, in penalties. The incident-related serious violations are for failing to purge or ventilate the confined space before entry, exposing the workers to an asphyxiation hazard, and not providing necessary rescue and emergency equipment for employees that were overcome inside a permit-required confined space.
In addition, OSHA issued serious citations to Higgins and McKenna Contracting for failing to:
Develop and implement a written hazard communication program for a worksite in which employees were exposed to dangerous chemicals and gases.
Use a calibrated direct-reading device to test for toxic gases, creating an asphyxiation hazard.
Create and document the confined space entry permit.
Provide training to employees in the safe performance of their assigned duties in permit-required confined spaces.
Provide a guardrail around the manhole opening, exposing employees to a fall hazard.
"The hazards of working in manholes are well established, but there are ways to make it safe," said Condell Eastmond, the OSHA area director in Fort Lauderdale. "Three employees needlessly lost their lives and others were injured due to their employer's failure to follow safe work practices."
The citations for D.N. Higgins can be viewed at: https://www.dol.gov/sites/default/files/newsroom/newsreleases/OSHA20171001.pdf
NIOSH Recommendations for Preventing Occupational Fatalities in Confined Spaces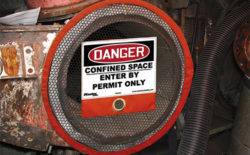 The National Institute of Occupational Safety and Health (NIOSH) says more than 60% of confined space fatalities occur among would-be rescuers.
NIOSH recommends that managers, supervisors, and workers be made familiar with the following three steps:
1. Recognition
Worker training is essential to the recognition of what constitutes a confined space and the hazards that may be encountered in them. This training should stress that death to the worker is the likely outcome if proper precautions are not taken before entry is made.
2. Testing, Evaluation, and Monitoring
All confined spaces should be TESTED by a qualified person before entry to determine whether the confined space atmosphere is safe for entry. Tests should be made for oxygen level, flammability, and known or suspected toxic substances. Evaluation of the confined space should consider the following:
methods for isolating the space by mechanical or electrical means (i.e., double block and bleed, lockout, etc.),
the institution of lockout-tagout procedures,
ventilation of the space,
cleaning and/or purging,
work procedures, including use of safety lines attached to the person working in the confined space and its use by a standby person if trouble develops,
personal protective equipment required (clothing, respirator, boots, etc.),
special tools required, and
communications system to be used.
The confined space should be continuously MONITORED to determine whether the sphere has changed due to the work being performed.
3. Rescue
Rescue procedures should be established before entry and should be specific for each type of confined space. A standby person should be assigned for each entry where warranted. The standby person should be equipped with rescue equipment including a safety line attached to the worker in the confined space, self-contained breathing apparatus, protective clothing, boots, etc. The standby person should use this attached safety line to help rescue the worker. The rescue procedures should be practiced frequently enough to provide a level of proficiency that eliminates life-threatening rescue attempts and ensures an efficient and calm response to any emergency.
OSHA Publications: Confined Spaces
Asphyxiation in Sewer Line Manhole: Fatal Facts
(OSHA 3819 – 2015) (English: PDF*)
Calibrating and Testing Direct-Reading Portable Gas Monitors
(2013, September 30) (English: HTML)
Confined Space Safety on Commercial Fishing Vessels Fact Sheet
(2011) (English: HTML PDF*)
Confined Spaces
(OSHA 3138 – 2004) (English: HTML PDF*)
Confined Spaces in Residential Construction Fact Sheet NEW
(OSHA FS 3914 – 2017) (English: PDF*)
Confined Spaces: Atmospheric Testing in Confined Spaces Fact Sheet
(2005) (English: HTML PDF*)
Confined Spaces: Is 911 your Confined Space Rescue Plan? Fact Sheet
(OSHA FS 3849 – 2016) (English: PDF*)
Confined Spaces: Permit-Required Confined Spaces QuickCard™
(OSHA 3214 – 2013) (English: PDF*)
(OSHA 3214 – 2013) (Spanish: PDF*)
Confined Spaces: Protecting Construction Workers in Confined Spaces – Small Entity Compliance Guide
(OSHA 3825 – 2015) (English: PDF*)
Exposure to Hazards Associated with Temporary Enclosures
(2002, May 30) (English: HTML PDF*)
Potential Carbon Dioxide (CO2) Asphyxiation Hazard When Filling Stationary Low Pressure CO2 Supply Systems
(1996, June 5) (English: HTML)
Total Flooding Carbon Dioxide (CO2) Fire Extinguishing System
(2001, December 22) (English: HTML PDF*)
Underground Storage Tanks (USTs)
(1990, August 31) (English: HTML)