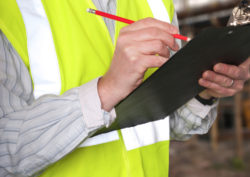 OSHA has a prioriy of objectives coming up for 2016 and beyond. Here is a brief look at the new safety issues:
OSHA has outlined how the General Duty Clause will be used to cite exposure limits beyond the Permissible Exposure Limits (PEL) to more protective occupational exposure limits based on industry practices, such as the ACGIH Threshold Limit Values (TLV), and the NIOSH Recommended Exposure Limits (REL).

OSHA Training 10hr/30hr - 15% OFF SALE
Training provides an overview of OSHA, workplace hazards, workers' rights, employer responsibilities, and how to file a complaint. Required by some states and companies in order to start employment on a worksite.
10hr only $89 - 30hr only $169!
Enter Promo Code "osha15offF" at Checkout
OSHA is looking at rules on infectious diseases based on NIOSH guidelines that will directly affect hospitals, but could also impact any subcontractor working at a hospital.
The last few years, OSHA has fielded enough variance requests for computer based lockout tagout controls that they are creating guidance on the matter. OSHA wants to ensure that these computer systems will lockout the hazard 100 percent of the time and there is a way to tag and sign off on it.
The current Powered Industrial Trucks regulation is recognized to be outdated with several new classes of trolleys, trucks, and pull along tugs being used and an update may come in the last quarter of the year.
Process Safety Management (PSM) is going through a revision. PSM is a large program that mostly guides how to handle hazardous materials in the petrochemical industry.
The ongoing combustible dust revision dust isn't going to be a factor any time soon because attention is currently focused on impending silica regulation. Since silica dust is generated through cutting and grinding and rarely monitored, many employers will be affected.
The update to the Walking Working Surfaces regulation 1910.23 based on the Construction Fall Protection regulation with a four foot threshold is impending. This may affect a lot of maintenance work, roof repair, and light installs.
Regarding the new Confined Spaces for Construction, heat will be considered an environmental condition that will qualify a confined space into a permit required confined space (PRCS). Also expect that assessing a confined space and a pre-entry rescue plan will be a consideration.
Temporary workers are going to continue to be an emphasis in the upcoming year, focusing on ensuring they are trained to the same level of permanent employees and are being given Personal Protective Equipment (PPE).
Source: Safety Services