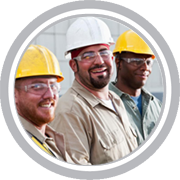 According to the US Bureau of Labor Statistics reports that fatal injuries on construction sites increased by 5 percent in 2014, to 874.
In addition, hundreds of thousands of workers are injured on the job, filing an incredible 1 million workers' compensation claims a year for both temporary conditions – such as broken bones and sprains – and permanent injuries, including paralysis and loss of limbs.
The reason, say experts, is a residential building boom in cities across the country, among them Phoenix, Arizona; San Francisco and San Jose, California; Miami, Florida; New York City; Nashville, Tennessee; and Austin, Dallas, Houston and San Antonio, Texas.
Reduce loss of life and injury, make sure to get your OSHA Construction Safety Training here.