The MSHA New Miner Training bundle contains 27 courses, including the required 8 hours of MSHA Part 46 compliance training. Surface miners and surface mine contractors are required to also  have the same Annual Refresher training outlined in Federal Regulations Title 30 CFR – Part 46.
The Mine Safety and Health Administration (MSHA) requires training for any person doing work, maintenance, or anything on a mine site for an extended period of time or on a frequent basis (more than five consecutive days or five days out of the year). Also, all mines have the right to require training – even if MSHA doesn't.
The MSHA-accepted Surface Miner Training curriculum is designed in compliance with federal requirements to offer miners of all experience levels a useful, comprehensive, and effective training tool. In accordance with regulations, this training must be administered in conjunction with supervised, on-site training as part of an approved plan.
MSHA New Miner Training Overview
MSHA New Miner & Annual Refresher – Training  – 8.5 hrs
Course Overview
MSHA Part 46 requires training for new miners, newly hired experienced miners, new tasks, site–specific hazards, and annual refreshers. MSHA Part 46 regulations require new miners to complete 24 hours of training within 90 days of their hire date. Four hours of this training must be completed before beginning work at the mine.
This MSHA Surface Miner Training also includes 8 hours of training and meets the training subject requirements of 30 CFR 46.5.
Pre-Requisites: None
Intended Audience
This course is designed for workers in mining industry and includes:
Workers (New Hires and Annual Refresher)
Supervisors
Managers
Learning Objectives
The Surface Miner Training curriculum parallels the required and suggested topics outlined in the Part 46 federal regulations addressing miner training. The key topics of the course are grouped into the following nine activities that make up the Surface Miner Training curriculum:
Introduction to the Mining Environment
Hazard Recognition and Avoidance
Emergency Procedures
Health and Safety Aspects of Tasks and Operations
Hazard Reporting Rules and Procedures
Statutory Rights of Miners
Line of Authority
Respiratory Devices
First Aid
Course Outline
The Introduction to the Mining Environment activity offers an introduction to mining and covers the following information:

Definition of mining
Surface mining development, operations, and reclamation
Physical characteristics of a surface mine
Typical surface mining equipment

The Hazard Recognition and Avoidance activity provides an overview of hazards common to surface mining operations as well as general steps one can take to avoid them. Here, hazards are defined as situations which result in property damage, illness, serious injury, or death. Categories of hazards discussed here include the following:

Environmental hazards
Equipment hazards
Physical hazards
Chemical hazards

The Emergency Procedures activity explains procedures to follow in a mine site during an emergency situation. It will focus on the following topics:

Types of emergencies
Emergency procedures
Fire and firefighting procedures
Warning signals, evacuation, and reporting

The Health and Safety Aspects of Tasks and Operations activity highlights health and safety standards and best practices for tasks and operations common to surface mines. Tasks and operational elements covered here include:

Preventing accidents
Working around equipment
Maintaining and repairing equipment
Working in a confined space
Working on or near water
Working at night
Working with chemicals
Working with electricity
Working with explosives

The Hazard Reporting Rules and Procedures activity discusses the general process for reporting hazardous conditions as well as immediately reportable accidents and injuries.
The Statutory Rights of Miners activity outlines the rights of miners and their representatives as granted by the Federal Mine Safety and Health Act of 1977.
The Line of Authority activity reviews and describes the general line of authority and responsibilities of supervisors and miners' representatives. The role and responsibility of designated safety personnel is also discussed.
The Respiratory Devices activity presents information on the proper use and maintenance of the types of respirators commonly used at surface mining operations. It will address the following topics:

Respirators
Escape respirators
Self-contained self-rescuers

The First Aid activity covers a range of first aid topics intended to offer a functional understanding of and responses to common health conditions, injuries, and emergencies. This information is grouped into the following categories:

First steps for all situations
First aid for emergencies
First aid for common injuries
This curriculum is designed in compliance with federal requirements to offer miners of all experience levels a useful, comprehensive, and effective training tool. In accordance with federal regulations, this interactive material must be administered in conjunction with supervised, on-site training as part of an approved training plan.
Topics Covered
27 courses are included in this training which meets MSHA Part 46 requirements:
Chemical Hazards (MSHA)
Emergency Procedures (MSHA)
Environmental Hazards (MSHA)
Equipment Hazards (MSHA)
Escape Respirators and SCSRs (MSHA)
First Aid for Common Injuries (MSHA)
First Aid for Emergencies (MSHA)
First Steps in All First Aid Situations (MSHA)
General Physical Characteristics of Surface Mines (MSHA)
Hazard Overview (MSHA)
Line of Authority (MSHA)
Maintaining and Repairing Equipment (MSHA)
Physical Hazards (MSHA)
Preventing Accidents (MSHA)
Respirators (MSHA)
Rights and Legal Responsibilities of Miners (MSHA)
Site Rules and Hazard Reporting (MSHA)
Surface Mine Development, Operations, and Reclamation (MSHA)
Typical Surface Mining Equipment (MSHA)
Using Personal Protective Equipment (MSHA)
Working Around Equipment (MSHA)
Working at Night (MSHA)
Working in a Confined Space (MSHA)
Working on or Near Water (MSHA)
Working with Chemicals (MSHA)
Working with Electricity (MSHA)
Working with Explosives (MSHA)
Module Quizzes and Final Exam
All module quizzes require a score of 70% to proceed forward in the course. The exam will test your knowledge on information covered throughout the course. You must make a score of at least 70% to pass this course. You will be given up to three opportunities to pass each quiz and the final exam. If you do not pass after three tries, you will be locked out of this course will no longer be able to take your Outreach training in an online format.
End of Course Completion Certificate
Upon completion of each individual module, students will be able to access a certificate of completion. The 5000-23 Training form is available for download. Generally, the person signing the form is the mine operator or a person acting on behalf of the operator. For example, a company safety official, a trainer employed or contracted by the operator, or a cooperative instructor (such as, a state grantee).
Our company or 360training.com does NOT sign the 5000-23 form.
Please follow this link to Download the 5000-23 form (PDF) and review any additional information.
Additional Materials
Is this course MSHA accredited?
While MSHA reviews and approves Part 48 underground miner training programs, they do not provide accreditation to Part 46 surface miner training programs. MSHA establishes training requirements via the Part 46 regulation and relies on the competent person and responsible person at a mine operation or mining contractor to conduct training and provide documentation that training was completed in accordance with a written training plan. Training can be conducted and evaluated in a variety of ways, including online and computer-based training.
Industry Terms
MSHA training
new hire
surface miner
nonmetal mines
MSHA Part 46
non-metal / non-coal surface mine operations
miner training
mining training courses
mine safety training
New Miner Training Resources
Training Requirements
The timeline below should help clarify the minimum MSHA Part 46 training requirements. Prior to taking any of these courses, you should confirm which training is required by your employer and that your employer accepts this training as part of an approved training plan.
While these regulations refer to "Miners," MSHA requires that mining contractors who perform work at surface mines on a regular basis to have all of the same training as a surface miner.
New Miner Training (30 CFR Part 46.5)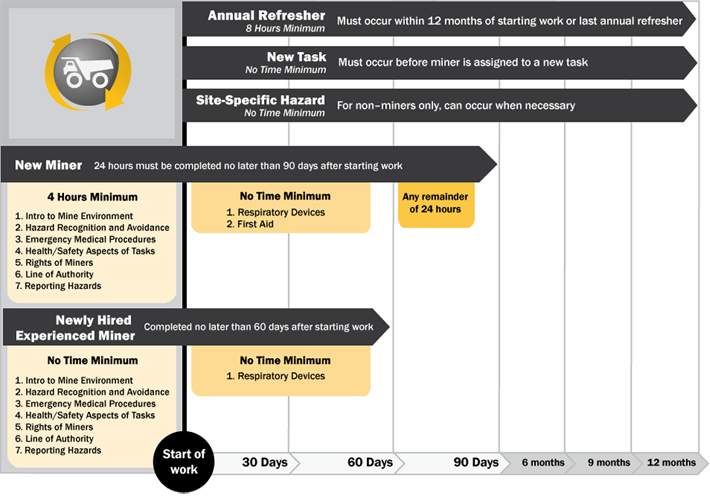 Ref: 360training.com
Compliance Help
Training Plan Resources
Our training partner offers Training Plans in a downloadable format to help organize your employee training.
Record of Training Resources
Course Summary
MSHA Accepted
Mine Safety and Health Administration (MSHA-accepted) Surface Miner Training required by MSHA Part 46  of Title 30 Code of Federal Regulations.
OSHA Accepted Provider
Complies with MSHA Title 30 CFR – Part 46
Download certificate of completion
Auto-bookmarking never lose place
100% Online – 24×7 Support
Money Back Guarantee
MSHA New Miner & Annual Refresher Training – 8.5 hrs
Price: $150.00
24×7 Customer Support
Search the knowledge base, submit a support ticket, troubleshoot issues, recover passwords, chat, e-mail or call the customer support desk. We look forward to helping you.
Find support for any course – click here.
Phone: (877) 881-2235
OSHA Training Group Discounts
Get up to a 40% group discount! Enroll and train all your food safety employees with a group enrollment. Track progress, generate reports, and manage learners using a cloud-based platform. More Info
Key MSHA Terms: new miner, new mining, new surface miner, msha approved, msha courses, msha training, miner safety, miner safety training, mine safety training, part 46, mine safety training provider, part 46 training.