Ladder safety training instructs safe ladder practices in construction and painting, building and custodial services, warehousing, power, manufacturing, chemical and petrochemical, oil and gas, and at home.
Factors contributing to falls from ladders include haste, sudden movement, lack of attention, the condition of the ladder (worn or damaged), the user's age or physical condition, or both, and the user's footwear.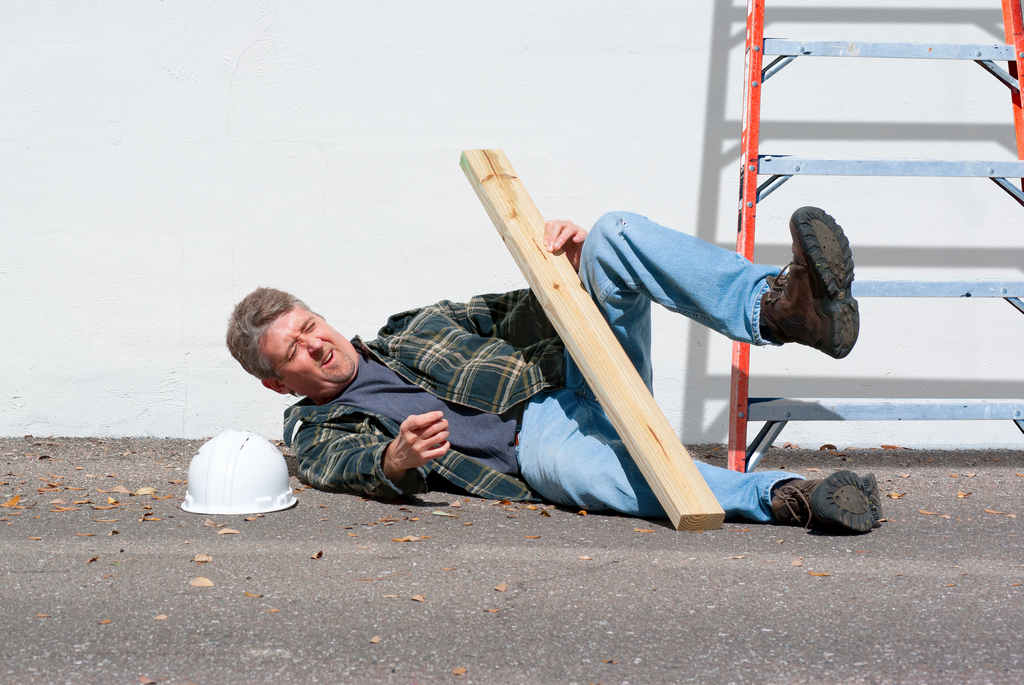 Ladder Safety Month
The American Ladder Institute (ALI) has declared March as National Ladder Safety Month. ALI, a not-for-profit ladder association of ladder industry leaders dedicated to promoting safe ladder use, with representation and support from U.S. ladder manufacturers and their suppliers, created National Ladder Safety Month to heighten awareness and promote the safe use of ladders by homeowners and working professionals.
March is the ideal time to highlight and encourage ladder safety because it coincides with Spring home improvement projects and the beginning of the construction season. National Ladder Safety Month heightens awareness, reinforces safety training, and educates homeowners and working professionals.
Why is ladder safety important?
In the U.S. workplace:
50 workers are injured each day – due to ladder related incidents.
3 workers are killed every week – due to ladder related incidents.
Ladders have ranked 7th on OSHA's annual "Top 10" list of most cited violations over the past few years.
Ladders are just as dangerous away from the workplace.

Fall Protection Training: 10% OFF SALE
OSHA compliant training course covering introduction to falls in the workplace, preventative measures to avoid falls, fall protection systems, fall protection plans, and how to inspect fall prevention equipment.
1hr: $20
Enter Promo Code "train10off" at Checkout
OSHA Ladder Safety Requirements
The OSHA Standard for portable ladders contains specific requirements designed to ensure worker safety:
Loads
Self-supporting (foldout) and non-self-supporting (leaning) portable ladders must be able to support at least four times the maximum intended load, except extra-heavy-duty metal or plastic ladders, which must be able to sustain 3.3 times the maximum intended load.
Angle
Non-self-supporting ladders, which must lean against a wall or other support, are to be positioned at such an angle that the horizontal distance from the top support to the foot of the ladder is about 1⁄4 the working length of the ladder.
In the case of job-made wooden ladders, that angle should equal about 1⁄8 the working length. This minimizes the strain of the load on ladder joints that may not be as strong as on commercially manufactured ladders.
Rungs
Ladder rungs, cleats, or steps must be parallel, level, and uniformly spaced when the ladder is in position for use. Rungs must be spaced between 10″-14″ inches apart.
For extension trestle ladders, the spacing must be 8″-18″ inches for the base, and 6″-12″ inches on the extension section.
Rungs must be so shaped that an employee's foot cannot slide off, and must be skid-resistant.
Slipping
Ladders are to be kept free of oil, grease, wet paint, and other slipping hazards.
Wood ladders must not be coated with any opaque covering, except identification or warning labels on one face only of a side rail.
Other Requirements
Foldout or stepladders must have a metal spreader or locking device to hold the front and back sections in an open position when in use.
When two or more ladders are used to reach a work area, they must be offset with a landing or platform between the ladders.
The area around the top and bottom of ladder must be kept clear.
Ladders must not be tied or fastened together to provide longer sections, unless they are specifically designed for such use.
Never use a ladder for any purpose other than the one for which it was designed.

OSHA Training 10hr/30hr - 15% OFF SALE
Training provides an overview of OSHA, workplace hazards, workers' rights, employer responsibilities, and how to file a complaint. Required by some states and companies in order to start employment on a worksite.
10hr only $89 - 30hr only $169!
Enter Promo Code "osha15offF" at Checkout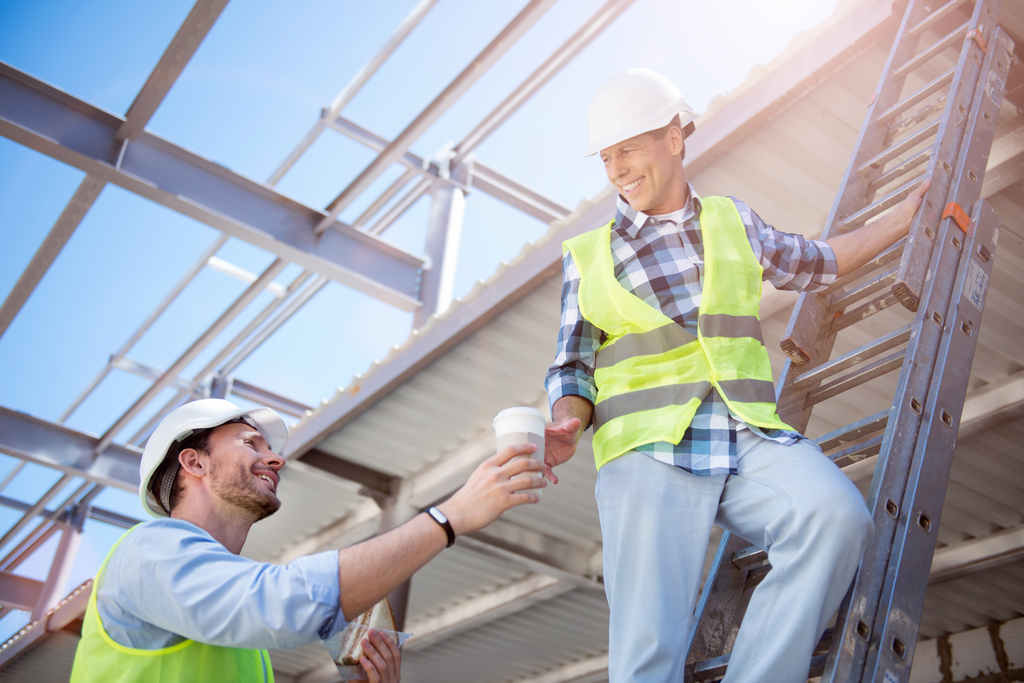 Workplace Safety Rights
Know Your Rights! Every worker has the right to a safe workplace under the OSH Act. Under federal law, you are entitled to a safe workplace. Your employer must provide a workplace free of known health and safety hazards. If you have concerns, you have the right to speak up about them without fear of retaliation.
You have the right under U.S. health and safety laws to:
A workplace that is safe and free of recognized hazards
Talk to your supervisor about unsafe or unhealthy working conditions
File a complaint with OSHA about unsafe or unhealthy conditions
Refuse to do a job task that you reasonably think might put you in immediate danger
Know about the hazards in your workplace
Not to be discriminated against (fired, given a worse job, etc.) for reporting safety hazards ("Whistleblower Protection")
Access to records of medical tests and tests that monitor your work environment for hazardous materials
Access to information about injuries and illnesses that happen in your workplace
OSHA – Workers' Rights Booklet
(OSHA 3021 – 2016) (English: PDF | Spanish: PDF)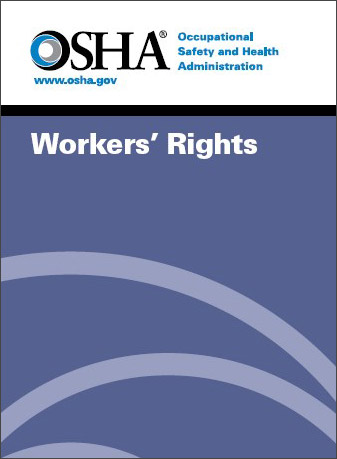 This booklet explains workers' rights to:
File a confidential complaint with OSHA to have their workplace inspected.
Receive information and training about hazards, methods to prevent harm, and the OSHA standards that apply to their workplace. The training must be done in a language and vocabulary workers can understand.
Review records of work-related injuries and illnesses that occur in their workplace.
Receive copies of the results from tests and monitoring done to find and measure hazards in the workplace.
Get copies of their workplace medical records.
Participate in an OSHA inspection and speak in private with the inspector.
File a complaint with OSHA if they have been retaliated against by their employer as the result of requesting an inspection or using any of their other rights under the OSH Act.
File a complaint if punished or retaliated against for acting as a "whistleblower" under the additional 21 federal statutes for which OSHA has jurisdiction.
 Read more about Ladder Safety and Your Worker Safety Rights:
Safety training, industry special events, and downloadable materials are available on the  LadderSafetyMonth.com website.